This article is for people of any background, regardless of religion or beliefs. I have chosen to extrapolate principles from the Prophet Muhammad's life not because of my personal religious beliefs, but because he is widely considered to be the most successful example of a levelheaded, morally conscious, positive role model. His last sermon has remarkable wisdom that today's generation can use. Modern society has sadly neglected some of the core values that have made humanity great in the past, and we would benefit very much from embracing these ideals.
Interest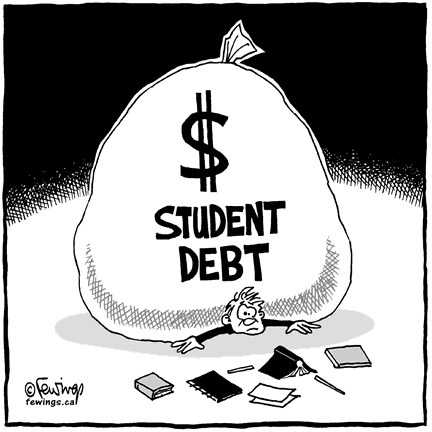 In his final sermon, he stated, "God has forbidden you to take usury (interest), therefore all interest obligations shall henceforth be waived. Your capital is yours to keep. You will neither inflict nor suffer any inequality." In modern-day America, interest is a burden for many people. College interest rates are problematic, as many graduates end up paying back their loans for many more years than if they could secure an interest-free loan. In fact, the federally subsidized Stafford loans for undergraduates doubled, rising from 3.4% to 6.8%.
      This harsh reality is often a great source of stress, and though it isn't practical to outlaw interest on loans as Muhammad did in his society, we can still do something to overcome this problem. We can individually choose not to take out loans with interest. Attending an affordable college, having good grades in high school, and applying for numerous scholarships can help. You may also choose to work while going to school; some colleges even provide on-campus jobs with the benefit of free tuition.
Use this same approach regarding other aspects of your life. By working hard, being frugal, and living within your means, you can avoid having to take out an interest-based loan to purchase a car, house, or cover any other major expense.
Racism
                Muhammad reminds us of the oneness of humankind in his farewell sermon. He stated, "All mankind is from Adam and Eve, an Arab has no superiority over a non-Arab nor a non-Arab has any superiority over an Arab; also a white has no superiority over black nor a black has any superiority over white except by piet
y and good action. Do not therefore do injustice to yourselves. Remember one day you will meet Allah and answer your deeds. So beware, do not astray from the path of righteousness after I am gone."
Nobody chooses their skin color or ethnicity; thus, it's foolish to attribute superiority to one race or another. Judging someone based on their physical appearance will only prevent you from getting to know that person for who he or she really is. As Dr. Martin Luther King Jr. has stated, "I have a dream that my four little children will one day live in a nation where they will not be judged by the color of their skin, but by the content of their character."
       However, even though many people may believe the issue of racism is no longer a problem, that is unfortunately not the case. Recently, Paula Deen's racist behavior toward the African-American community has been made public; in addition, a church in Mississippi refused to marry an African-American couple. George Zimmerman profiled an African-American teenager, shot him, and got away with it. We need to remember that all of humankind is equal and that we should judge a person based on their character, not their skin color or ethnic background.
Domestic Issues
                Muhammad stated, "O people, it is true that you have certain rights with regard to your women, but they also have right over you. If they abide by your right then to them belongs the right to be fed and clothed in kindness. Do treat your women well and be kind to them for they are your partners and committed helpers. And it is your right that they do not make friends with any one of whom you do not approve, as well as never to commit adultery."
    Virtuous women are not valued by modern society, and are even scorned. Cheating has become almost expected, and is portrayed in a multitude of movies, tv shows, and other media. As a result, divorce has also become common; over 50% of marriages end in divorce, and that statistic only pertains to first marriages, not second or third marriages, in which divorce is even more common. Another major problem is that men often mistreat and abuse women, often using them for a "fling" while avoiding a serious, committed relationship.
This has damaged society as a whole in a variety of ways. Children are often hurt and confused when their parents divorce, spousal abuse is bad enough in some cases that the person being abused is too afraid to leave, and both men and women have been taught to see women as sex objects. This is demoralizing and detrimental to everyone.
By returning to the principals taught by the Prophet Muhammad, we can create a society free from financial stress, racism, damaging relationships, and the multitude of negative consequences that stem from these problems.