In this section of my blog I will be tracking what Books I have been reading. I just got done reading this amazing book called.  'What So Great About Christianity' by Dinesh D'Souza. Secularism and many liberal ideologies get their entire foundation from Judea-Christian thought which they then attack.
What's So Great About Christianity  by Dinesh D'Souza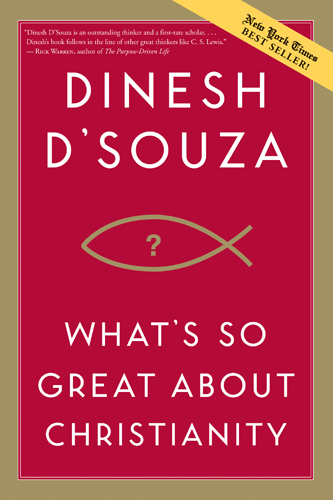 Quote: #1
When Thomas Jefferson wrote in the Declaration of Independence that "all men are created equal" he claimed that this was a self-evident truth. But it is not evident at all. Indeed, most cultures throughout history, and even today, reject the proposition. On the face of it, there is something absurd in claiming human equality when all around us we see dramatic evidence of inequality. People are unequal in height, in weight, in strength, in stamina, in intelligence, in perseverance, in truthfulness, and in about every other quality. Inequality seems to be the self-evident reality of human nature.Jefferson knew this. He was asserting human equality of a special kind. Human beings, he was claiming, are moral equals. They don't all behave equally well, but each of their lives has a moral worth no greater and no less than that of any other. According to this strange doctrine, the worth of a street sweeper on the streets of Philadelphia was as great as that of Jefferson himself. Each life is valuable, and no one's life is more valuable than another's.
Quote #2
Nietzsche's proclamation "God is dead" is now proven false. Nietzsche is dead.The ranks of the unbelievers are shrinking as a proportion of the world's population. Secularism has lost its identification with progress and modernity, and consequently it has lost the main source of its appeal. God is very much alive,and His future prospects look to be excellent. This is the biggest comeback story of the twenty-first century.
——-
I am currently also reading  'Against Liberalism'  by John Keke'
John Stuart Mill, influenced by Benjamin Constant and Withelm Humboldt, further strengthened liberalism by arguing that it is morally impermissible to interfere with the actions of individuals even if they are motivated by irrational, destructive, stupid, or emotive considerations provided only that their actions do not harm others. As Mill might put it, liberalism is opposed to the coercion even of nonautonomous actions, just long as such actions are compatible with the autonomous functioning of other individuals…