"America needs to understand Islam, because this is the one religion that erases from its society the race problem. Throughout my travels in the Muslim world, I have met, talked to, and even eaten with people who in America would have been considered white – but the white attitude was removed from their minds by the religion of Islam. I have never before seen sincere and true brotherhood practiced by all colors together, irrespective of their color." – Malcolm X
Islamophobia is an irrational fear and hatred of Muslims. Those who subscribe to such sentiments often view Islam as barbaric and violent. Islamophobia often manifests itself through violent hate crimes against Muslims, tweets of Richard Dawkins,  films such as Innocence of Muslim, Danish cartoons or the writings of Robert Spencer.
But why is there such a huge hatred of Islam?
In this article, we will expose white supremacy as the root cause of Islamophobia. We will utilize Western man as a metaphor for the white supremacist philosophical underpinnings of western societies and those unfortunate enough to be indoctrinated by its mentality.
The Psychology Behind Islamophobia
Narcissism characterizes the psychology of western man. Western man seeks to be the primary benefactor of praise and adulation. Western man wants to see its icons, theorists, and heroes as the primary source of goodness in the world. Since its inception, western man has sought to create a spiritual, material, and colonial enterprise established exclusively for the advancement of the white race. Western man has sought unrivaled greatness in the world for the sole purpose of worship. Yet, in their endeavor, western man has always lagged behind one man. One man stood in their way of greatness – that man is Muhammad. Lamartine once observed, "If greatness of purpose, smallness of means, and astounding results are the three criteria of human genius, who could dare to compare any great man in modern history with Muhammad?" [1]Muhammad, a prophet of Arabia (not Europe), is seen as a genius and as a premier example for integrity and morality. This greatly hurts western man. They want to see themselves as the premier source of integrity and morality. With other religious figures, such as Jesus, white European powers were able to successfully change his image from a man of color to a white man. In Trinitarian Christian theology, Jesus is revered as God. Jesus in Christian theology is said to have died for the sins of mankind to save them from eternity in hellfire. The European image of Jesus as a white man sought to solidify the message, "the white man is God and the white man is here to save you."
Yet, with Muhammad, they were unable to co-opt his name for the purposes of white supremacy and he still posed a great threat to their ideology of white supremacy. Lamartine continues, "The most famous men created arms, laws and empires only. They founded, if anything at all, no more than material powers which often crumbled away before their eyes. This man[Muhammad] moved not only armies, legislations, empires, peoples and dynasties, but millions of men in one-third of the then inhabited world; and more than that, he moved the altars, the gods, the religions, the ideas, the beliefs and souls…"  [2] The idea that a man of color has accomplished such a feat hurts western man so deeply that they've developed a sort of cognitive dissonance.
They would like to deny it, hence Robert Spencer's "Did Muhammad Exist?: An Inquiry into Islam's Obscure Origins."  [3]Not only did Muhammad exist, but he has been the most talked about, read about, and studied man for the past 15 centuries of human history. His grave still exists in modern day Saudia Arabia. Secular historians know more about Muhammad than the founder of any other religious figure in the world, including Buddha, Jesus and Confucius. This is simply a tactic of denial. When people cannot accept the fact that a man of color, not a white man, is viewed as a source of greatness, their reaction is to simply deny his existence, thereby ridding themselves of any opposition to their ideology.
Others have chosen other routes, such as the Danish cartoons which portray the Prophet Muhammad as a terrorist in an effort to discredit his morality, or the film The Innocence of Muslims, which portrayed Muhammad as a homosexual, rapist, and child pedophile. This is a tactic that goes hand-in-hand with white supremacy: inventing lies about a man of color who is an outstanding, revered individual. The hatred for Muhammad as well as the refusal to accept that a man of color is the subject of such study and emulation are both products of white supremacy. The Prophet Muhammad is often displayed as a war-monger and bloodthirsty lunatic. In reality, Muhammad was a man who fought wars solely for the sake of self-defense; as one author notes:
"The greatest crimes, the greatest "sin" of Mohammed in the eyes of Christian West is that he did not allow himself to be slaughtered, to be "crucified" by his enemies. He only defended himself, his family and his followers; and finally vanquished his enemies. Mohammed's success is the Christians' gall of disappointment… He did not believe in any vicarious sacrifices for the sins of others."[4]
The Prophet Muhammad sent him men to confront the Roman armies. But who exactly did he send? Usama Ibn Hariath, a black slave whom Muhammad freed and appointed to military commander at age 16. But before he could lead his men to battle, the Prophet Muhammad died. At the time of the Prophet Muhammad's death, mayhem and friction were replete throughout the Muslim lands. Romans learned of the prophet's death and sought to take advantage of this perceived weakness. The Muslims would be fighting one another over who their new leader would be, they assumed. This was a great miscalculation on their part. Usama was well prepared, and he knew he had to perform a pre-emptive strike against the Romans. He sent his men and eventually defeated the Romans. The Romans' defeat proved the Muslims' unity and cohesion even after their Prophet's death. The sheer power and organization of the Muslim army astounded the Romans and the Muslims captured a significant portion of their empire; after their defeat, they decided to hold back from invading the Muslim empire.
There are two military commanders in history who never lost a battle: Genghis Khan and the companion of the Prophet, Khalid ibn al-Walid, who would eventually capture Roman Syria. Rome is very important to the west and Europeans, and in addition to Greece it was one of the most influential inspirations on Western civilization. Western civilizations see military prowess as indicative of an advanced civilization. The fact that a black kid (by today's standard) and an Arab disseminated the Romans struck fear in the hearts of westerners, so they sought to repress this history which challenges western hegemony and white military prowess.
But of great significance is what Islam has done for the very people western man despises the most. Islam was the dominant religion of black people throughout Africa prior to European colonialism. Islam was able to flourish in Africa prior to Arabia.
Visiting an African Muslim community in the Mali Empire, Ibn Battuata, an Arab traveler, observed something which directly contradicts modern stereotypes of the black community:
"These Negroes are seldom unjust, and have a greater abhorrence of injustice than any other people. Their sultan shows no mercy to anyone who is guilty of the least act of it. There is complete security in the country. Neither traveler nor inhabitant in it has anything to fear from robbers or men of violence. They do not confiscate the property of any white (Arab) man who dies in their country, even if it be uncounted wealth. On the contrary, they give it into the charge of some trustworthy person among the whites (Arabs), until the rightful heir takes possession of it."[5]
Also, the Mali Empire was ruled by a Black Muslim by the name of Mansa Musa, the wealthiest person in world history with an estate of $400 billion by today's standards. Robert Dannin observed that: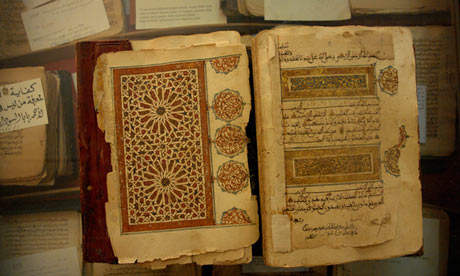 "African civilization through the force of its monotheistic scripture and its social discipline based on the Qu'ran… Islam protected Africans from the worst excesses of pagan ritual, alcoholism, and colonial exploitation because it elevated African society on the ladder of social revolution. It created an image of the African as less primitive and worthy of more recognition in the eyes of the European trained missionary and scholar and provided a framework of African history that was otherwise unthinkable." [6]
Thus, we see that Islamic tenets when found among Black people directly contradict stereotypes of white society.
Edward Wilmot Blyden, who is known as the father of Pan Africanism, observed:
"Wherever the Negro is found in Christian lands, his leading trait is not docility… but servility. He is slow and unprogressive. Individuals there are of extraordinary intelligence, enterprise, and energy, but there is no Christian community of Negros anywhere which is self-reliant and independent. …On the other hand, there are numerous Negro Mohammedan communities and states in Africa which are self-reliant, productive, independent, and dominate, supporting, without the countenance or patronage of the parent country, Arabia, whence they derived them, their political, literary, and ecclesial institutions… the Mohammedans, without any aid from government, Imperial or local or any contributions from Meccca…. The same compliment cannot be paid to the Negro Christians of that settlement." [7]

The purpose of white supremacy is to make black people dependent on white society, devoid of strength of self-sufficiency.  Islam gave this to them. It also played an active role in opposing colonialism, for example: the Bahia slave revolts in the Americas were Islamic in origin.  Muslims such as Malcolm X were powerful orators against unjust policies of America and his words sparked fear within white society. In 'Black Pilgrimage to Islam,' Robert Dannin noted that Islam gave black people a commitment to discipline, avoiding vices such as drugs and gambling (which Islam prohibits) and working hard for family. Such an image is opposite of the one white supremacy wants from black people, which is to be a dead-beat father, on drugs, a gang-banger, or a victim of the prison industrial complex. The real threat to white supremacy is not the 'street thug,' but the hard-working black man who is trying to get ahead based upon the rules that their society has established. .  By implementing the Sunnah of the Prophet Muhammad, they do just this. Even Bill Cosby observed:
"I'm a Christian. But Muslims are misunderstood. Intentionally misunderstood. We should all be more like them. They make sense, especially with their children. There is no other group like the Black Muslims, who put so much effort into teaching children the right things, they don't smoke, they don't drink or overindulge in alcohol, they protect their women, they command respect. And what do these other people do? They complain about them, they criticize them. We'd be a better world if we emulated them. We don't have to become black Muslims, but we can embrace the things that work."[8]
It is precisely for this reason that Islam is thoroughly demonized. The spread of Islam with its prohibitions on alcohol and gambling would dry the pockets of western economies. Its approval would have dire consequences on western hegemony, and they must demonize Islam because of a power shift that the spread of Islam would have. And its population that they would like to see perpetually oppressed would liberate themselves from the vices of black on black violence, drugs, gambling, alcoholism. Etc., by following its tenets. The Prophet Muhammad stressed universal brotherhood and racial equality:
"All mankind is from Adam and Eve, an Arab has no superiority over a non-Arab nor a non-Arab has any superiority over an Arab; also a white has no superiority over black nor a black has any superiority over white except by piety and good action. Learn that every Muslim is a brother to every Muslim and that the Muslims constitute one brotherhood. Nothing shall be legitimate to a Muslim which belongs to a fellow Muslim unless it was given freely and willingly. Do not, therefore, do injustice to yourselves."
Simply put, such an ideal contradicts the white supremacist ideology which underpins western nations, whereas the Prophet Muhammad cared about all people regardless of their race. One hadith in Sahih Bukhari reads:
"A black woman used to sweep the mosque and she died. The Prophet asked about her. He was told that she had died. He said, "Why did you not inform me? Show me her grave." So he went to her grave and offered her funeral prayer."

The Prophet Muhammad was the head of state managing the daily affairs of a nation, and he saw fit to pray for a black woman who had the simple task of sweeping the mosque; he was deeply troubled by her death and decided to pray for her.
So why does western man hate Islam? The answer can be summed up in a quote by Malcolm X: "If white Americans could accept the Oneness of God, then perhaps, too, they could accept in reality the Oneness of Man – and cease to measure, and hinder, and harm others in terms of their 'differences' in color."[9] Western man, who does not want to accept the Oneness of Man, will continue to denigrate Islam. Islam continues to be the greatest threat to the ideology of white supremacy and this is the reason for Islamophobia.
1) What they say about Muhammad, http://www.islamreligion.com/articles/196/viewall/
2)IBID
3)Robert Spencer's "Did Muhammad Exist?: An Inquiry into Islam's Obscure Origins
4)www.everymuslim.co.za/index.php/articles-menu/reverts-menu/53-information-on-reverting-to-islam/1752-non-muslim-views-of-muhammad-peace-be-upon-hima
5)http://www.fordham.edu/halsall/source/1354-ibnbattuta.asp Medieval Sourcebook:Ibn Battuta: Travels in Asia and Africa 1325-1354
6) Black Pilgrimage To Islam,  By Robert Dannin
7) "Christianity, Islam and the Negro Race", by Dr. Edward Wilmot Blyden (known as the father of Pan-Africanism), s
8) We should All Be Like Muslims, http://www.breitbart.com/Big-Hollywood/2013/06/10/cosby-all-should-be-muslims
9)http://www.malcolm-x.org/docs/let_mecca.htm