There is a deep seated fear in the heart of every white person: the black man.
B
ut not just any black man; there's a fear of the bold, strong and masculine black man. Since the beginning of slavery in America, black men have led great resistance struggles against the  institution . Black men, such as Toussaint Louverture, Dutty Boukman, Jean-François Papillon, and, of course, the great Nat Turner, lead rebellions that struck fear in the heart of white society. Why do strong black men represent such an immense threat to the foundation of white supremacy? It is because the strong black man protects his woman, takes care of his children and provides for his family. This black manhood is a great threat to white supremacy, as  white people fear genetic annihilation.
Not too long ago, it was a common feat for white people to lynch black men and then cut off various body parts and auction them off as souvenirs. These savage events were attended by men, women and children. As a matter of fact, whites would tip-toe and push each other to get a better view in the crowded spectacle. And what was the body part that everyone wanted; the part that was the most expensive and sought after? The black man's testicles —the symbol representing ones manhood and ability to reproduce. The fact that this cruel spectacle was happily attended by entire white families as though it was a celebration reveals much about the nature of white society. This culture has also perpetuated insecurity about their own sexual shortcomings compared to the black man, who always resisted their oppressive onslaughts since the inception of the decadent ideology of white imperialism. Likewise, white people – knowing that people of color in the world outnumber them – have always feared extinction, and this fear would shape the ideology of Hitler and the subsequent eugenics movements which attempted to create a white "master race."
On the other hand, strong black men like Shaka Zulu gathered the Zulu Warriors to resist colonial occupation by the British, and they managed to defeat many of their armies even though his men only had spears, while the British carried guns. Furthermore, strong black men like Nat Turner led a slave revolt which resulted in the deaths of at least 50 of their oppressors and others, like Prosser and Gabriel, whose names struck fear in the hearts of white settlers. With that being said, while black Muslim warriors in West Africa were fighting to repel European invaders, they had a saying, which was, "a man who could not provide for and protect his wife was worse than an infidel." This was the mentality of black men when it came to protecting their women and children.
To challenge this mentality in the western hemisphere, whites would castrate the black man – ending his ability to produce testosterone, which was responsible for his aggression
so vehemently hated by white society. White men seeking to dominate black men would insult and rape our women. In one slave narrative, a black man describes his anguish as white men "committed violent depredation on the chastity of female slaves," and to his dismay, was unable to come to their aid, regardless of his burning desire to do so. He knew it was his duty to defend the honor and purity of black women, but due to the white man's superior firearms, he was unable to do so. Although, during European conquest of African lands, black men would fight to protect their black women, some paying with their life.
In the modern era, white society no longer needs to physically castrate black men in order to emasculate them. Instead, they implement a variety of social policies to keep the black man effeminized and passive. A key aspect of welfare policies was that the black woman received more money if the black man was away from the home. Hence, the black man would be separated from his black son, leaving his son to be raised by exclusively by the mother. The result would be the emasculation of the black male:
"Black women are being left to rear black boys alone, the alienation, hate and disgust felt towards adult men are visited upon their sons subtly. A woman separated from a man is hard-pressed which reinforces patterns of behavior to a man-child that reminds her of unhappiness and pain. She is much more inclined to say, 'There you go, looking and acting like that no good father of yours.'" The black woman and school teacher also may be experiencing alienation from her black man: "Schools and their personnel, like all other aspects of the racist system, do their share to restrict young black boys from maximal functioning and thus further the ultimate alienation of black men from themselves and their manhood. As a result of this pattern of socialization, some black males begin to perceive that it is easier to be a female child than a male child, and to be a black woman than a black man."
Thus, as a result of not having a black father in their lives, some young boys began to act like women, who are the only people in their house to emulate, and so their expressions and mannerisms began to take that of a female.
The lack of a father in a child's life has disastrous results on the mentality of the black male. Take into account that "71% of high-school dropouts come from fatherless homes, 75% of youth in chemical abuse centers come from fatherless homes, and 85% of youth in juvenile correctional institutions come from father homes." In contrast to this data, much leftist literature says that the "nuclear family" is somehow more oppressive than single parenthood. This is yet another attempt to normalize what they refer to as Liberatory "family structures," despite the negative impact of the arrangement on the black community.
This disregard for a strong black father was spearheaded by the white-led "Sexual Liberation Movement," which normalized promiscuity and fornication instead of chastityamong black women– greatly affecting the chances of people not knowing who their baby daddy was. Ever seen the Maury show?
During slavery, black men sought to defend the chastity and honor of black women. Today, black organizations, such as the Nation of Islam, carry on this legacy of protecting black women, but it is deemed patriarchal and oppressive within an ideological war waged by white feminists (which would influence black feminism) against black manhood as to discourage black men from protecting their black women and children to solidify white supremacy under a false guise of 'liberation.'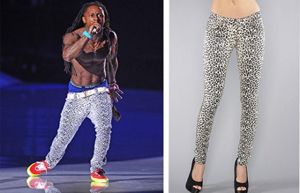 The mostly white afashion industry also attempts to normalize effeminate clothing among black men—now popularized by rappers, largely controlled by white corporations. Whites control black styles and are steadily steering it towards effeminized trends.
Frances Cress Welsing writes:
"The more the black male strives to stand, the weaker the white male feels by comparison, and the greater the white male's thrust to effeminize the black male- to weaken the black male's psychological potential for aggressive and assertive challenge, forcing him to remain submissive to "The Man."
Will the real black men rise up?

http://people.ehe.osu.edu/bgordon/files/2012/06/Todd-Walker.pdfvSystemic Emasculation: A History of American InstitutionaAffects on Black Male Dysfunction 1700v1950